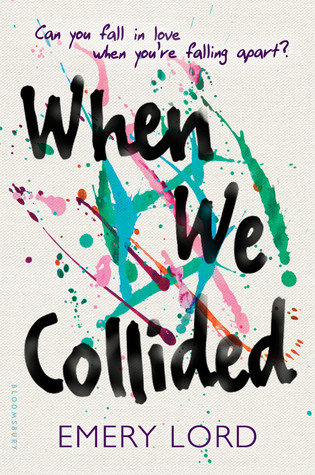 Whew. When We Collided by Emery Lord is an eye-opener to the world of mental health on so many different levels. I literally just set the book down and wanted to write before I forgot anything, but I'm still processing my thoughts. Needless to say, bear with me.
The Synopsis.
Meet Vivi and Jonah: A girl and a boy whose love has the power save or destroy them.
Vivi and Jonah couldn't be more different. Vivi craves anything joyful or beautiful that life can offer. Jonah has been burdened by responsibility for his family ever since his father died. As summer begins, Jonah resigns himself to another season of getting by. Then Vivi arrives, and suddenly life seems brighter and better. Jonah is the perfect project for Vivi, and things finally feel right for Jonah. Their love is the answer to everything. But soon Vivi's zest for life falters, as her adventurousness becomes true danger-seeking. Jonah tries to keep her safe, but there's something important Vivi hasn't told him.
The Good.
Emery's character development deserves an exuberant standing ovation, especially her progression of Vivi. Vivi's change through each chapter feels physical to readers. You hear it, you see it, and you get a sense of what it is like being her. It's a special power that few authors are able to do.
I also loved the characters in general. Jonah's family is sweet beyond belief and you can't help but wish that you are a part of his family, in some odd twisted way. I 100% ADORE Ellie. She's the sweet answer to the question "what do I want to be when I grow up?" She plays such a minor character, yet she doesn't all at the same time. What a well rounded group of people Miss Emery Lord has constructed. I would like to have dinner with every single one of them. (Plus, it would probably be the most delicious dinner ever—can we talk about how hungry I was reading this book?!)
The Not-So-Good. 
This is a hard book to review. Honestly, I didn't overly enjoy reading it, probably because it's a difficult, in-your-face, kind of read. Emery presents you with this character whose thinking is so vivid, you almost become annoyed. She takes you through this wave, this journey, of Vivi's that is frustrating to both the character and the reader and at times it is hard to swallow. But you have to appreciate the realism and the message behind the story.
Overall. 
A memorable book with a lot heart. For those that loved Jennifer Nelson's All The Bright Places, add this book to your TBR list.
When We Collided by Emery Lord
Bloomsbury
April 5, 2016
352 pages
Purchase: Amazon US | Amazon UK | B & N | Book Depository 
---
All opinions are my own and are not endorsed or sponsored by any company or organization.