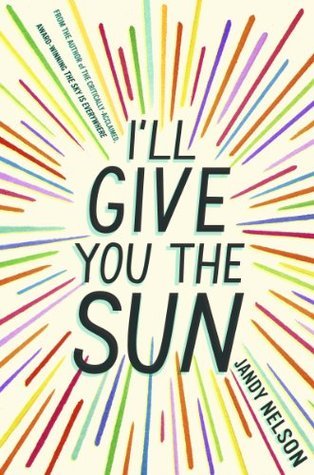 *****
Rating: 5/5
Guys. This has been by far my favorite read this year. It is of extreme importance that you dash to your local library/bookstore or grab your nook/tablet/iPad and buy this wonderful, wonderful, (did i mention wonderful?), book RIGHT this minute.
Dear Jandy Nelson, where have you been all of my life? There is so much good in this book I could go on and on and on, but I don't want to give away any spoilers. With that being said here is an overview of Nelson's masterpiece of a novel:
Jude and her twin brother, Noah, are incredibly close. At thirteen, isolated Noah draws constantly and is falling in love with the charismatic boy next door, while daredevil Jude cliff-dives and wears red-red lipstick and does the talking for both of them. But three years later, Jude and Noah are barely speaking. Something has happened to wreck the twins in different and dramatic ways . . . until Jude meets a cocky, broken, beautiful boy, as well as someone else—an even more unpredictable new force in her life. The early years are Noah's story to tell. The later years are Jude's. What the twins don't realize is that they each have only half the story, and if they could just find their way back to one another, they'd have a chance to remake their world.

This radiant novel from the acclaimed, award-winning author of The Sky Is Everywhere will leave you breathless and teary and laughing—often all at once.
Nelson will leave you with feels that capture every emoji on your iphone. It will make you laugh, cry, and scream. At times you'll be confused, happy, often angry, but in love. It will wrap your heart up and open your eyes to a world of acceptance. Your vision will become renewed by Noah's unique perspective and life around you will seem a bit more vibrant.
This is a book that makes you appreciate the brokenness, or at least embrace the heart ache. Friends, this one is a giver, a taker, and one that you will not put down nor forget. This is the next big one, I can feel it deep in my bones.
Seriously, what are you waiting for? Go read it.
---
QUOTES:
"How can you judge a fella until you picnic with him?" (211)
"A broken heart is an open heart" (348)
"Or maybe a person is just made up of a lot of people', I say, 'Maybe we're accumulating these new selves all the time hauling them in as we make choices, good and bad, as we screw up, lose our minds, find our minds, fall apart, fall in love, as we grieve, grow, retreat from the world, dive in to the world, as we make things, as we break things." (354)
"Maybe some people are just meant to be in the same story." (365)
"Meeting your soul-mate is like walking into a house you've been in before-you will recognize the furniture, the pictures on the wall, the books on the shelves, the contents of drawers, you could find your way around tin the dark if you had to." 
"If a boy gives a girl an orange her love from him will multiply." (178)
"People die, I think, but your relationship with them doesn't. It continues and is ever-changing."
"When people fall in love, they burst into flames."
image: via
---
All opinions are my own and are not endorsed or affiliated with any company or organization.