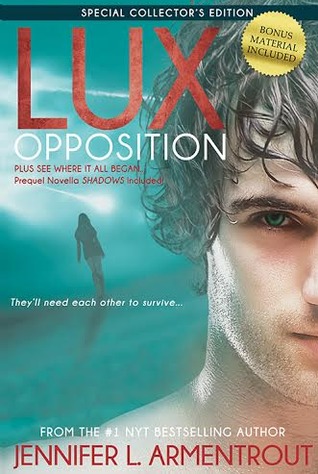 Source: Goodreads
Synopsis:
"Katy knows the world changed the night the Luxen came.  She can't believe Daemon stood by his kind threatened to obliterate every last human and hybrid on Earth.  But the lines between good and bad have blurred.
Daemon will do anything to save those he loves, even if it means betrayal.  But when it quickly becomes impossible to tell friend and foe, and the world is crumbling around them, they may lose everything to ensure the survival of their friends…and mankind."
___________________________________________________________________________________
Rating: 8/10
GREAT READ
Firstly, a round of applause for Armentrout and her stunning conclusion. All ends were neatly packaged, topped with a shiny yellow ribbon, and handed to us, adoring fans, with a deep bow and a kiss. Closing the last page I breathed a heavy sigh of relief knowing that I finished the series with no questions left unanswered.  So a big thank you and congrats to her!
Secondly, "YES!" When I say that every book is better than the one before I mean it in an all-encompassing way. From the characters, to the plot, to the writing—"whew", SO good.  
Opposition, will make you breathless (for more reasons than one), ecstatic, heart-broken, and exhilarated. There is so much jammed between the pages you will have a hard time keeping up. Alliances are formed that you would never fathom, friendships will waver, and lives will end.
Previous supporting characters will shine. You will come to find that Archer has one SERIOUS sense of humor and he will consistently have you laughing to the end.  Luc's mystery is unveiled and you will be left with this overwhelming desire to coddle him. And Katy and Daemon—well, between every few pages you will be enraptured by their love and strength for one another.
I can't say it enough, Opposition is a great conclusion to the Lux Series. Fans you will not be disappointed.
_________________________________________________________________________________
All opinions are my own and are not endorsed or affiliated with any company or organization.