Hello my dear bibliophiles!
We are officially in the second month of 2015! How was your first? I hope it was full of adventures, new discoveries, and of course epic reads.
Well this past month, I finally knuckled down and read Michelle Hodkin's Mara Dyer trilogy. I'm not sure what took me so long. It's a phenomenally edgy and twisted series and I highly recommend it to any of you who like a lot of creepy mixed in with your teenage romance. (Twilighters, I'm talking to you!) I also picked up Paula Hawkin's The Girl on the Train. Not to beat a dead horse, but another fantastic read. Also, another creepy read. (I guess I was in a thriller/psychological/suspense mood this month.) In short, it will definitely be one of the best books released this year.
Speaking of good books… let's talk about a few  who are making their debut this February!
1. Red Queen by Victoria Aveyard
February 10th by Orion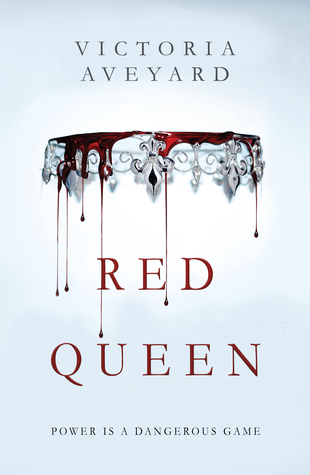 Red Queen has been on my watch list for awhile and it hasn't been hard to keep up to date. This book has been posted everywhere, which only heightens my anticipation for it's release.
The poverty stricken Reds are commoners, living under the rule of the Silvers, elite warriors with god-like powers.
To Mare Barrow, a 17-year-old Red girl from The Stilts, it looks like nothing will ever change.
Mare finds herself working in the Silver Palace, at the centre of
those she hates the most. She quickly discovers that, despite her red blood, she possesses a deadly power of her own. One that threatens to destroy Silver control.
But power is a dangerous game. And in this world divided by blood, who will win?
2. My Heart and Other Black Holes by Jasmine Warga
February 10th by Harper Collins/Balzer + Bray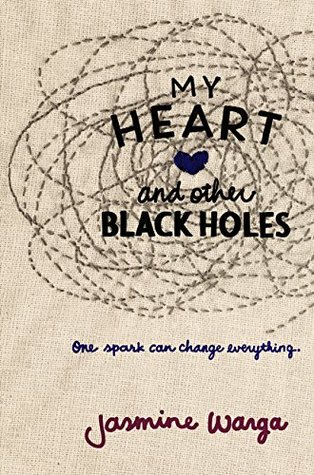 Hey all of you The Fault in Our Stars fans, a little bird whispered this one is a must read. 
Sixteen-year-old physics nerd Aysel is obsessed with plotting her own death. With a mother who can barely look at her without wincing, classmates who whisper behind her back, and a father whose violent crime rocked her small town, Aysel is ready to turn her potential energy into nothingness.
There's only one problem: she's not sure she has the courage to do it alone. But once she discovers a website with a section called Suicide Partners, Aysel's convinced she's found her solution: a teen boy with the username FrozenRobot (aka Roman) who's haunted by a family tragedy is looking for a partner.
Even though Aysel and Roman have nothing in common, they slowly start to fill in each other's broken lives. But as their suicide pact becomes more concrete, Aysel begins to question whether she really wants to go through with it. Ultimately, she must choose between wanting to die or trying to convince Roman to live so they can discover the potential of their energy together. Except that Roman may not be so easy to convince.
3. The Glass Arrow by Kristen Simmons
February 10th by Tor Teen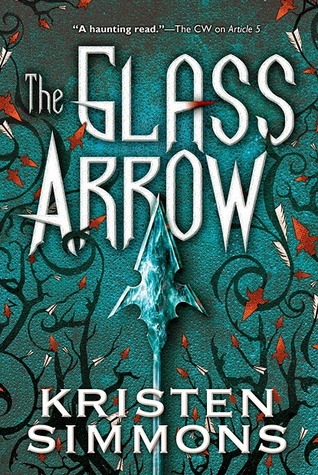 I haven't seen this one floating around much, but the premise is so intriguing that I had to add it on to my list!
The Handmaid's Tale meets Blood Red Road in Glass Arrow, the story of Aya, who lives with a small group of women on the run from the men who hunt them, men who want to auction off breeding rights to the highest bidder.
In a world where females are scarce and are hunted, then bought and sold at market for their breeding rights, 15-year old Aya has learned how to hide. With a ragtag bunch of other women and girls, she has successfully avoided capture and eked out a nomadic but free existence in the mountains. But when Aya's luck runs out and she's caught by a group of businessmen on a hunting expedition, fighting to survive takes on a whole new meaning.
4. The Last Time We Say Goodbye by Cynthia Hand
February 10th by Harper Teen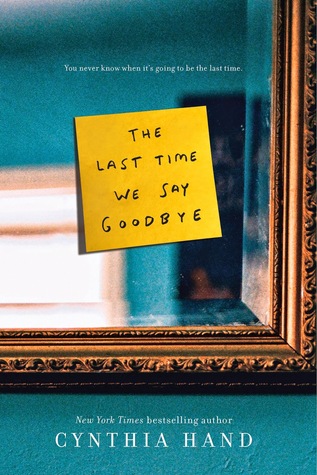 I know this one will most likely make me cry rivers, but usually those are the best kinds of stories. Plus, the cover is gorgeous! 
There's death all around us.
We just don't pay attention.
Until we do.
The last time Lex was happy, it was before. When she had a family that was whole. A boyfriend she loved. Friends who didn't look at her like she might break down at any moment.
Now she's just the girl whose brother killed himself. And it feels like that's all she'll ever be.
As Lex starts to put her life back together, she tries to block out what happened the night Tyler died. But there's a secret she hasn't told anyone-a text Tyler sent, that could have changed everything.
Lex's brother is gone. But Lex is about to discover that a ghost doesn't have to be real to keep you from moving on.
From New York Times bestselling author Cynthia Hand, The Last Time We Say Goodbye is a gorgeous and heart-wrenching story of love, loss, and letting go.
5. A Wicked Thing by Rhiannon Thomas
February 24th by Harper Teen
I am a sucker for anything fairy tale, so when I heard about this spin on Sleeping Beauty I was ecstatic. Who doesn't like princes, sword fights, and damsels in distress?
Rhiannon Thomas's dazzling debut novel is a spellbinding reimagining ofSleeping Beauty and what happens after happily ever after.
One hundred years after falling asleep, Princess Aurora wakes up to the kiss of a handsome prince and a broken kingdom that has been dreaming of her return. All the books say that she should be living happily ever after. But as Aurora understands all too well, the truth is nothing like the fairy tale.
Her family is long dead. Her "true love" is a kind stranger. And her whole life has been planned out by political foes while she slept.
As Aurora struggles to make sense of her new world, she begins to fear that the curse has left its mark on her, a fiery and dangerous thing that might be as wicked as the witch who once ensnared her. With her wedding day drawing near, Aurora must make the ultimate decision on how to save her kingdom: marry the prince or run.
Rhiannon Thomas weaves together vivid scenes of action, romance, and gorgeous gowns to reveal a richly imagined world … and Sleeping Beauty as she's never been seen before.
6. No Parking at the End Times by Bryan Bliss
February 24th by Greenwillow Books
I. Can't. Wait. For. This. Not only is the cover compelling, but the synopsis grabbed my full attention. I have a feeling this is going to be one witty and gripping story. 
Abigail's parents have made mistake after mistake, and now they've lost everything. She's left to decide: Does she still believe in them? Or is it time to believe in herself? Fans of Sara Zarr, David Levithan, and Rainbow Rowell will connect with this moving debut.
Abigail doesn't know how her dad found Brother John. Maybe it was the billboards. Or the radio. What she does know is that he never should have made that first donation. Or the next, or the next. Her parents shouldn't have sold their house. Or packed Abigail and her twin brother, Aaron, into their old van to drive across the country to San Francisco, to be there with Brother John for the "end of the world." Because of course the end didn't come. And now they're living in their van. And Aaron's disappearing to who-knows-where every night. Their family is falling apart. All Abigail wants is to hold them together, to get them back to the place where things were right. But maybe it's too big a task for one teenage girl. Bryan Bliss's thoughtful, literary debut novel is about losing everything—and about what you will do for the people you love.
What books are you looking forward to this February?! 
Photos & synopses via Goodreads. 
---
All opinions are my own and are not endorsed or affiliated with any company or organization.